BETS 1 TO 1000
If we had bet a stake that returned £200 profit on every bet Bookie Bashing posted above 107% from bets 1 to 1000 then we would have profited by £11,445. The average stake would have been £34
Every bet was posted in the value mugs forum starting 9th September 2016.
Of course we can't get a stake on to win £200 at every bookmaker. Sometimes we can get more (especially if it's Fred shop special), sometimes less, sometimes nothing if we're restricted to zero. My average "to win" was very close to £200. I will tend to bet more when the EV is higher, when it is very high I will want to win up to £300 or higher.
The bets take many forms but were most commonly value enhanced multiples offered by the bookmaker.
Value betting involves a lot of variance. From the beginning we have stated the necessity to focus on a minimum of 1000 bets before analysing a trend.
On 29th October 2017 we published the 1000th bet over 107% – an NFL treble at Betsafe for the Vikings, Cowboys and Steelers; 4.5 to back, 3.6 to lay, 123% EV.
It came in.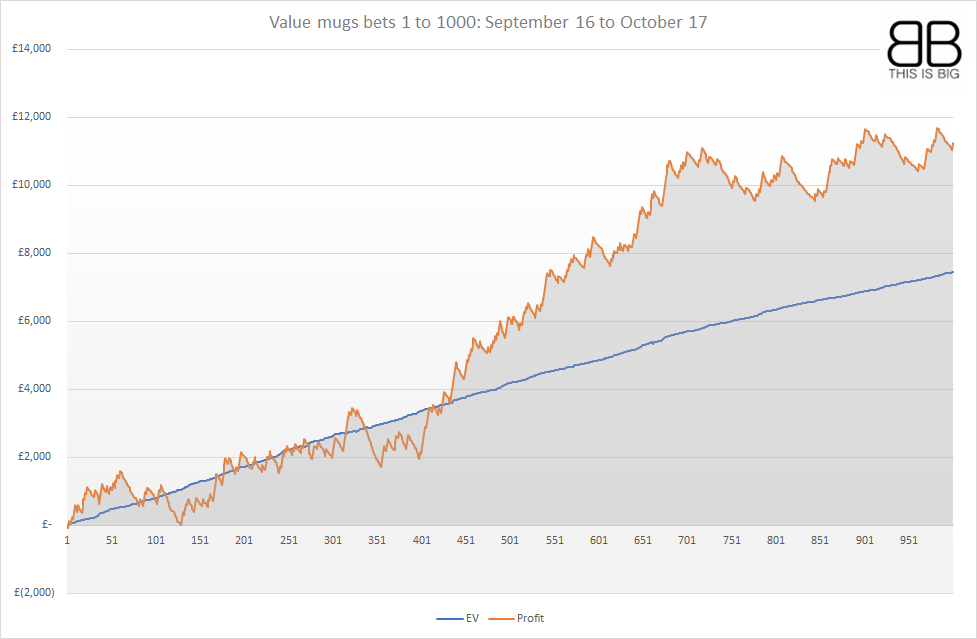 If you had bet a stake that returns £200 profit on average on each of the value bets, you would have returned £11,445 profit.
That's the easy stat. The variance hasn't been easy, so lets focus on that. There have been two long losing runs and longer runs where we've made very little; the first 400 returned £2,000 and the last 300 returned £1,500. One of the hardest runs was dropping back to negative profit after the first 130 bets – all of the effort and profit in the first two months were wiped out.
We attained £7,475 in EV. We won £11,445 so ran 53% over EV. Had we run 53% under EV we would have won £3,961. You could argue that £3,961 is still a good return, but if we thought £11k hurt at times, £3.9k would have been very painful.
Still, think about how many of those twitter boooooomboys would love a system that could return £3,961 profit in 1000 bets.
SOME STATS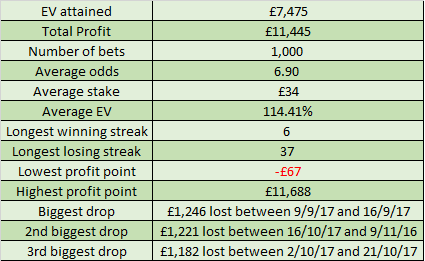 The highest EV bet was at Betsafe on the 1st September 2017. Spain, Netherlands and Wales were 25/5.2 in the world cup qualifiers – equal to 455% EV. I had £12.50 on this; we thought it was going to be a palp, but not only did it win but Betsafe paid out.
The smallest odds were 2/1.66 and the largest 76/70. Both lost.
Let's not focus on the profit.
It's easy to win.
The hard bit is losing, so below I present the three biggest losing runs. Hopefully they can help us learn about the kinds of swings we can expect in the next 1000.
I remember all three clearly. The middle one hurt because it was right at the beginning, and we lost a few early subscribers due to it. The other two ran very close to each other at the beginning of the 17/18 season,, and to some extent we have not fully pulled out of them as of the end of October 2017.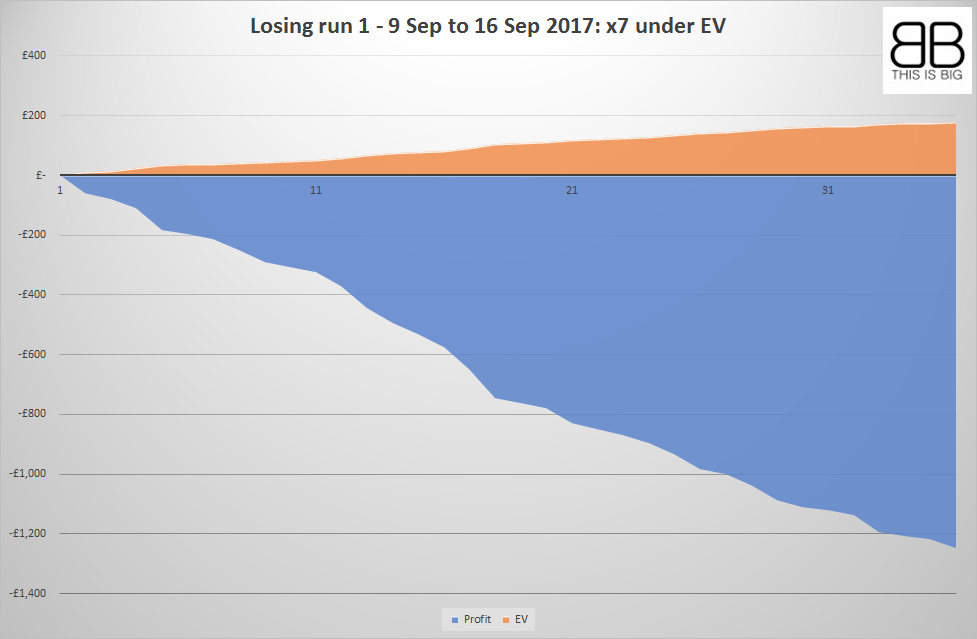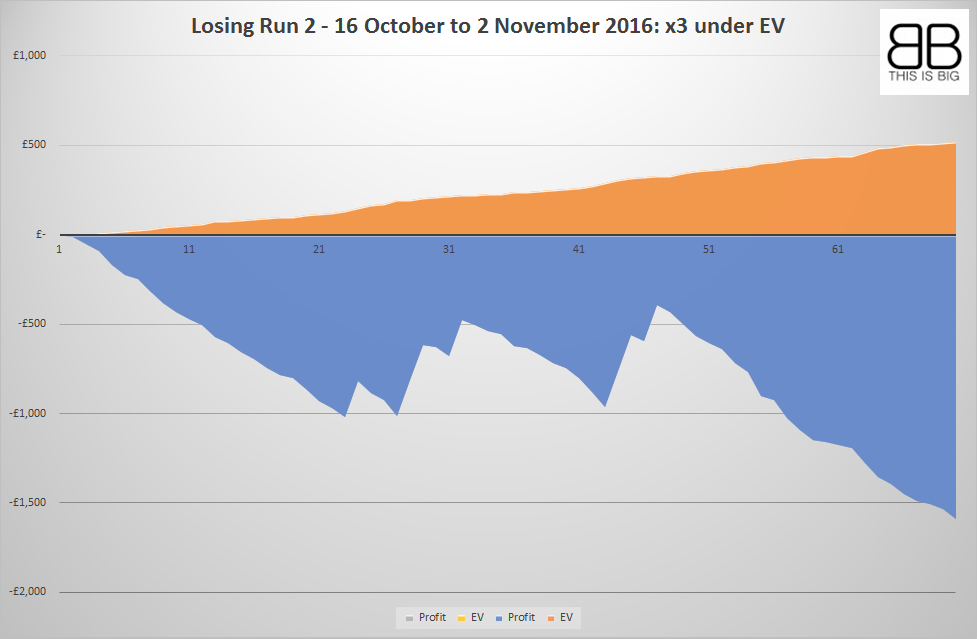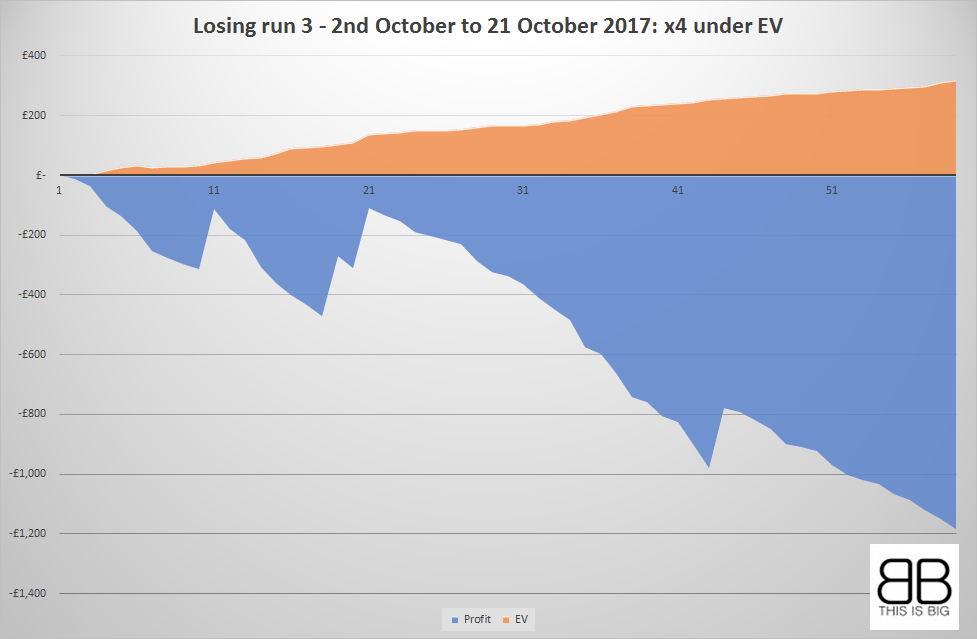 All 3 downswings were in the region of £1200.
Let's use the above data and say on average we're staking £35. If we assume that the very worst downswing in the next 1000 could be 3 times as bad as the worst won here, that would be a downswing of £3600. So betting a stake of 1% of our "loseable" bankroll seems to be the absolute maximum we should be looking at.
Bear in mind that is our "loseable" bankroll, not our bankroll. If we lost our entire bankroll we'd be pissed and have to start again. So there may be an exercise to sit down and work out what we can comfortably lose in within our bankroll and before it starts affecting us mentally – and define this as "loseable". For me its around 5% of my overall bankroll although I'll openly admit that's hyper hyper cautious.
Now a look at how many bets we're placing to achieve these results, and the bloody barren sports summer of death in 2017 between weeks 37 and 46.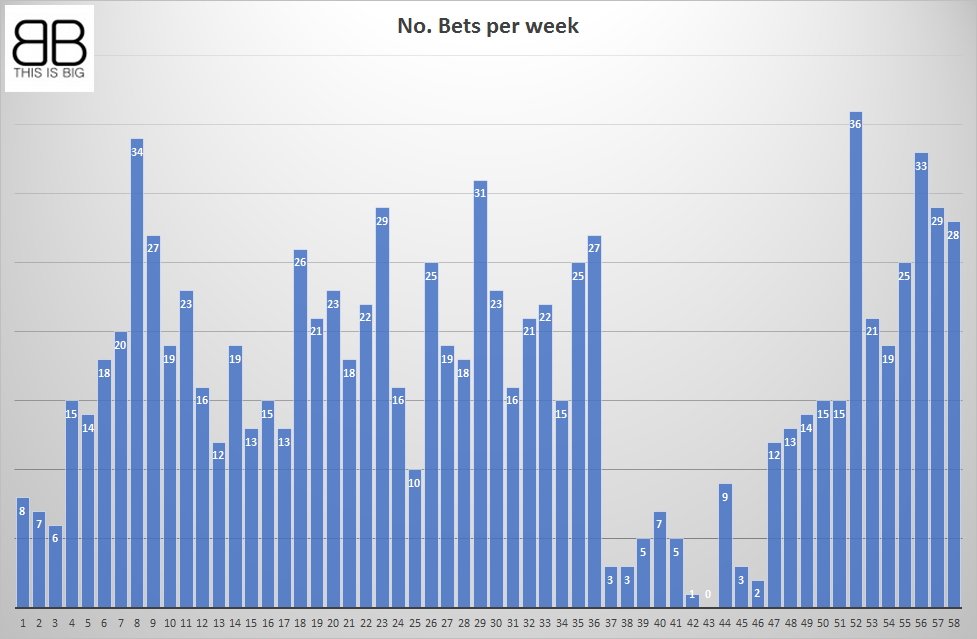 The wisdom of the crowds
Do you know why we use the betfair lay price to determine the implied odds of an event happening? Because the betfair lay price is always the worst case scenario of the wisdom of crowds. It's not perfect, but as Professor Marcus du Sautoy explains in this video, it can (at times) be amazingly accurate.
Listen to the Bashcast
Listen to bashertom take you through this offer and more in his own inimitable style, hear about last week's profits and next week's opportunities. Find us on Podbean. Seriously, it's not to be missed!
Join us
Join the Bookie Bashing clan, we are a niche band of matched bettors looking to stay ahead of the crowd. Check out the site if you want to be in on it.