Matchbook have put up a market up for shots on target boosts. They have not added anything to their rules about these bets, although other similar markets state that a "bet is live if a player plays any part of the game"
This morning Paddy Power went 5/1 on Aguero to get 3+ Shots on Target. The bookiebashing calculator makes it 2.99: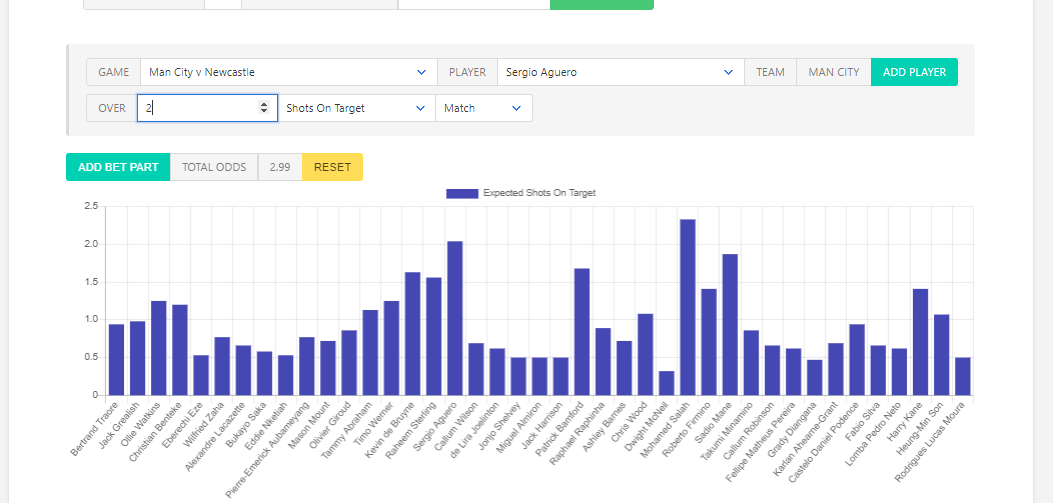 Matchbook opened a market and the back was set at 5.6 and the lay was set at 5.8

Why the different numbers?
2.99 is BookieBashings estimate for Aguero 3+ SOT. To calculate this, we have used the 2+ market from bet365 to determine the expected mean, and then applied a normal poisson distribution. It can be proven that bookmakers themselves use a normal poisson distribution to jump from 1+ to n+ SOT; Paddy Power and BFSB provide enough options to show that. We cannot know if a significant weighted bias is applied to the margin of higher odds, however at the moment we've seen no evidence of this. With current available information, we make the back odds at Matchbook a very good bet and we assume that there is significant bias in this market.
Shots on Target bets will remain in Alpha until we have concrete information on the markup bias – this may be "never".
Footnote
Whilst preparing this blog, Paddy Power cut the odds of the Aguero 3+ Shots on Target bet to 4.5. Shortly after they cut the odds, the Matchbook market shifted to a back of 4.1 and lay of 4.4. This is a good indicator to suggest how much bias there is in this market on Matchbook. The traders seem to be basing their prices entirely relative to the odds of the boost, without concern of the fair odds. We maintain that backing at 4.1 is still a good bet.