How it works

Shop Coupon

Tracker
What is it?
The BookieBashing Coupons Tracker returns the EV of every football team on select coupons at select bookmaker every week.
The bookiebashing team source the best value coupons from the shops on relevant days. We enter these coupons into the coupon tracker and monitor EV for our members to bet on.
The EV of each team is benchmarked vs fair odds in real time. Where there is liquidity on the exchange we will use that source as a benchmark. However we monitor and track the EV in many coupons where there is no liquidity on the exchange. We calculate the fair odds of markets such as "Team to score in both halves" using in house algorithms from our Game Centre.
Teams that attract "smart money" find their prices dropping on the exchange, and they rise in position on our coupons tracker.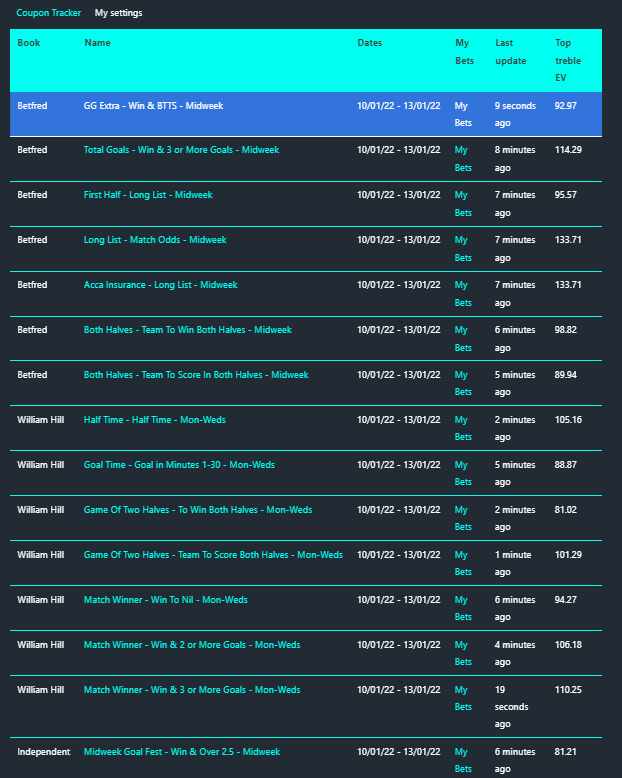 Features
Filter by EV, min and max odds
Update cuts in real time
Confirm the price is held for other users to see
See the teams that have steamed relative to the rest
Add teams to "my selections" to build a coupon of 3-10 teams
Select different data metrics (Lay, Last Price Matched, Back)
See the top treble EV of each coupon to cherry pick the coupon with the greatest value
What does it do?
The tracker utilises the power of smart money.
Bookiebashing members have used the coupon tracker to take advantage of and profit from in shop football coupons since 2016.
A blog documenting a particularly profitable season can be found here
Value Betting Strategy: Following Smart Money in the 2018/19 football season
Results
A page documenting the coupons tracker results can be found here: https://www.bookiebashing.net/hub/results/shop-coupon-results/