How it works

Horse Racing

Tracker
What is it?
The BookieBashing Horse Racing Tracker returns the EV of every horse at every bookmaker at every UK race – every day.
We determine the EV of each horse by estimating the probability of a finishing position between 1st and 10th. This is then compared to the odds and place terms available at the bookmaker to return Expected Value.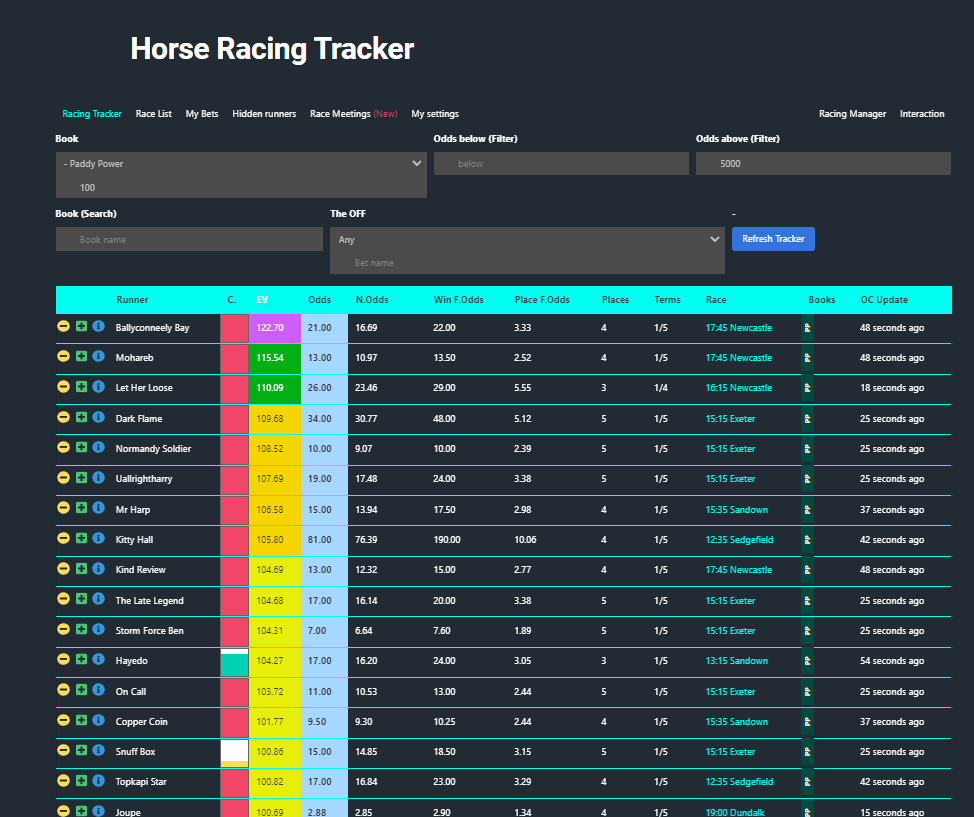 Features
Filter by "Your bookmakers" – get rid of any bookie you're restricted at
Drill into horse price information
Assess price and EV history graphs
Save your horses and bets to "My Selections"
Draft doubles, trebles, lucky 15s/31s, Yankees etc.
Configure data metrics used to calculate EV
Odds cut at bookmaker? Use the Neutral Odds to see if its still a good bet
Calibrate staking method to your personal preference
Filter out Win Arbs for account longevity
What you get access to
Get access to one of the most powerful horse racing trackers available to advantage players
The horse model can be used to bet each way at the bookmakers
A common application of our tracker is through placing multiples – Lucky 15s and Lucky 31s compound the value. Whilst our Singles results have an ROI of 105%, placing these +EV horses in multiples sees long term ROI of 130%+
Follow the smart money – when prices come down on the exchange EV rises on the tracker
Use data metrics from a variety of sources
The BBAlgorithm looks at historical data to plug the gaps where there is no priority data, ensuring we are able to estimate every horse in every race at any terms
What does it not do?
This isn't a basic arb tool. Nor is it a basic "Bad Each Way" tool. We estimate value whether the exchanges are liquid or not, and we return value on a large variety of races, regardless of their composition.
Results
Our horse racing tracker is independently proofed by Smart Betting Club. – where this tracker gained Hall of Fame entry. We are the first service to have 2 trackers in the Hall of Fame at SBC. A report they published on the tracker can be found here:
Our in-house results recording page can be found here:
Horse Racing Tracker Results
We take a snapshot of +EV horses at 11am and 2pm at 6 different bookmakers and record the p/l betting these level staking and Kelly staking. Over 18,000 +EV horses from 2019-2020 we have an ROI of +5% (level staking) and +10% (Kelly staking).