How it works

Golf

Tracker
What is it?
The BookieBashing Golf Tracker returns the EV of every player at every bookmaker at every European Tour and PGA event – each week.
We determine the EV of each player by estimating the probability of a finishing position between 1st and 10th. This is then compared to the odds and place terms available at the bookmaker to return Expected Value.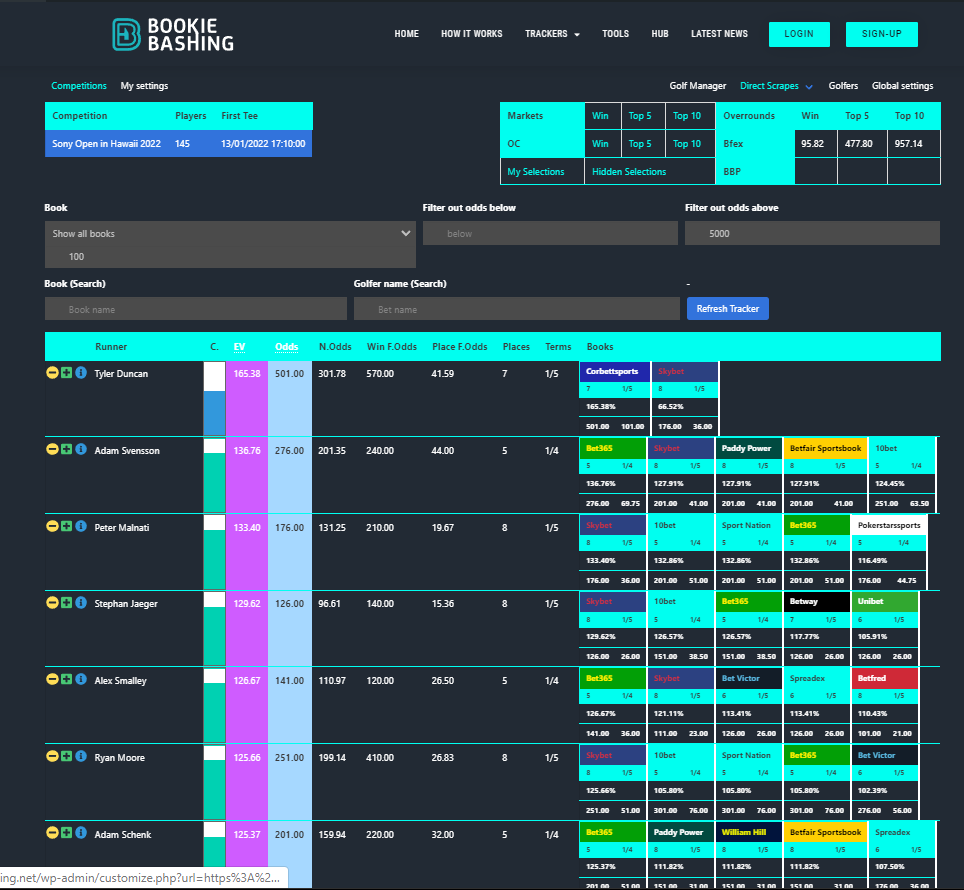 Features
Filter by "Your bookmakers" – get rid of any bookie you're restricted at
Drill into player price information
Assess price and EV history graphs
Save your golfers and bets to "My Selections"
Monitor the field coverage and EV taken
Configure data metrics used to calculate EV
Odds cut at bookmaker? Use the Neutral Odds to see if its still a good bet
Calibrate staking method to your personal preference

What you get access to

Get access to the golf model used by bookie bashers, advantage players and successful tipsters "Weekly Golf Value".
The golf model estimates value from a variety of sources across the market.
The golf model can be used to bet each way at the bookmakers
The golf model can also be used to bet on the exchange following smart money
The tracker utilises the power of smart money; when respected winning tipsters release their bets, money hits the exchange. As the price is driven down, the EV rises on our tracker .The tool can be seen as a repository for all that smart information; that is why we see a fantastic ROI even betting Win Only at exchange prices
The golf model can even be used to value players for draft sports.
We produce weekly golf course analysis and a graph that ranks the field based on the metrics relative to that course. This can help narrow down the selections from the tracker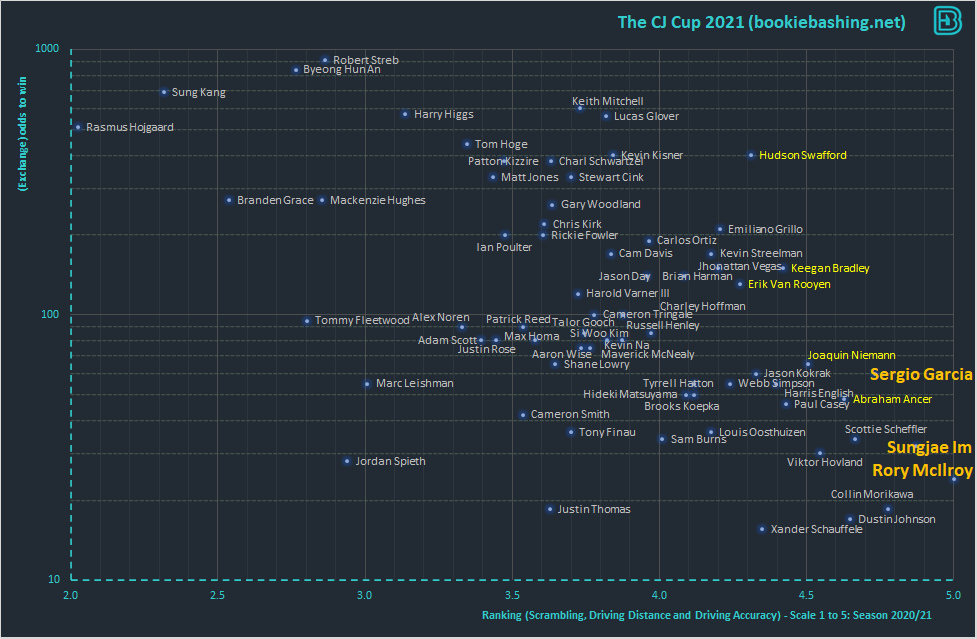 Imitations
Beware of imitations that simply benchmark from the exchange. Our tracker is designed to include exchange information (we would be fool-hardy to ignore it) our model will still predict the place price with or without liquidity.
Results
Our results are independently verified by the Smart Betting Club – where the golf tracker gained Hall of Fame entry. Each week we put up a shortlist of golfers on the site to monitor the ROI of the tracker. We also send a similar shortlist of players from the tracker to proof our result (occasionally the lists are slightly different, but in the long run they all come from the same source – the BB golf tracker)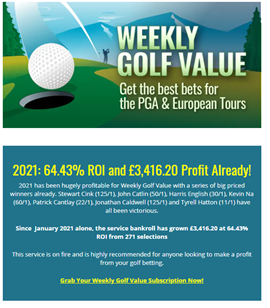 Our in house results are updated once a month and can be found on this page: