The Zozo Championship CJ Cup takes place on 22nd October at the Sherwood Country Club in Thousand Oaks, California. The bookiebashing golf tracker will be available to subscribers from Tuesday 20th October to help narrow down the value betting propositions.
The concessionary places 7 places (1/5) – Boylesports, William hill, Paddy Power, BFSB, Skybet, Gentingbet
Key metrics at Sherwood Country Club.
Scrambling, greens in regulation and Par5 scoring are key predictive metrics at the Zozo Championship.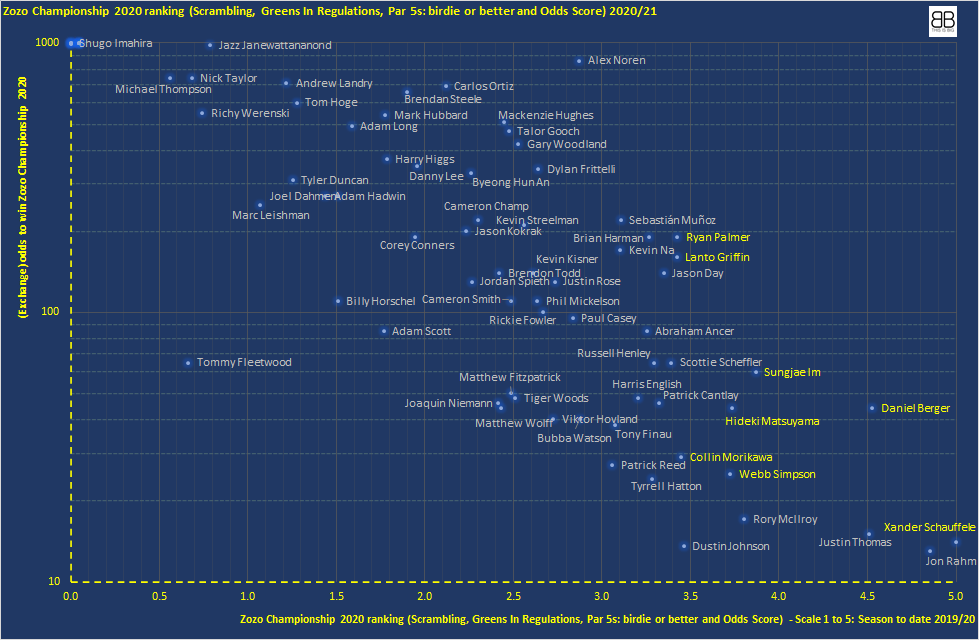 Based on these metrics, we're keeping an eye on the following to see if we can find odds on the BookieBashing tracker that find value amongst:
Ryan Palmer
Lanto Griffin
Sungjae Im
Hideki Matsuyama
Daniel Berger
Colin Morikawa
Webb Simpson
Xander Schaeffele
We will keep an eye out for these golfers to see if the bookmakers price them into +EV propositions on the bookiebashing tracker.
Weather forecast
For inplay action it's worth keeping an eye on the weather.
BB Results
Betting on the golf can be pretty high variance with large fields and long odds but our results to date are in line with our expectations. These results are from the selections we post up on a Tuesday or Wednesday before the event and so are just a snapshot of the value available at any particular time. The tracker itself is live so there is plenty of value available throughout the build up to an event.
Tour
Tournaments
Number bets
Winners
Staked (£1k starting bankroll)
p/l
ROI
Year 1
20/05/19 – 20/05/20
PGA
38
376
9
 £                                         4,608.74
 £  2,143.09
214.31%
European Tour
0
241
4
 £                                         3,048.53
 £     473.93
47.39%
Total
38
617
13
 £                                         7,657.27
 £  2,617.01
261.70%
Year 2
21/05/20 to 21/10/2020
PGA
19
183
2
 £                                         2,216.00
 £     643.30
64.33%
European Tour
14
106
1
 £                                            862.00
 £     688.00
68.80%
Total
33
289
3
 £                                         3,078.00
 £  1,331.30
133.13%
All Years
21/05/20 to 21/10/2020
PGA
57
559
11
 £                                         6,824.74
 £  2,786.39
278.64%
European Tour
14
347
5
 £                                         3,910.53
 £  1,161.93
116.19%
Total
71
906
16
 £                                      10,735.27
 £  3,948.31
394.83%