Over the last month, I've been taking the opportunity to put "Penalty Taken" into Lucky 15s, Lucky 31s, Lucky 63s during Premiership and Champions League gamedays.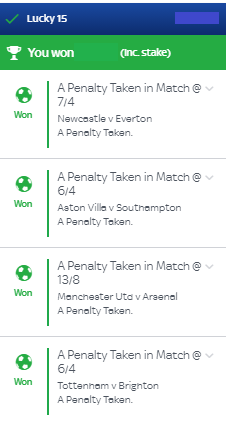 I've had a decent amount of profit up until now. There seems to be a higher-than-average awarding of penalties recently, due to one of the following reasons:
VAR rule changes
No crowd influence
There is no tangible difference, the sample size is just too small, there is no edge and I've just been lucky.
In the last Champions League gameday (Wednesday the 28th) there were penalties in 6 of 8 games. In total, there have been 14 penalties in 32 Champions League games, and 32 penalties in 68 EPL games.
Completely ignoring sample size, that gives average fair odds of 2.29 (CL) and 2.13 (EPL)
| | | | | |
| --- | --- | --- | --- | --- |
| | Games | Penalties | % | Fair Odds |
| Champs League | 32 | 14 | 43.75% | 2.29 |
| Premiership | 68 | 32 | 47.06% | 2.13 |
In this evenings Champions League games, the top price for "penalty taken" is 2.62-3. As always, William Hill are top price on most (6 out of 8) games. People familiar to the Great Sport Offers are aware the I consider blindly betting penalties in all games at William Hill to be a +EV strategy, especially when they are top price,
I will be going in again tonight, whilst the prices for both competitions continue to average > 2.5