At bookiebashing we benchmark off reliable sources. This could be the exchange, the spreads or another bookmakers lines.
This allows us to find a value bet when a bookmaker is priced high in a particular market.
What happens when all bookmakers seem to be priced high? One of two things:
(1) the line is too high (or low, depending on the market) with the benchmarking source and the value is there instead of the bookmakers or
(2) there is value at all bookmakers
Going down the route of (2) can be dangerous territory. It is difficult to posit that multiple bookmakers have all priced something up wrong and a single source has priced it up right. With the above in mind, lets look at 170 checkouts in the PDC World Championships.
Benchmarking
There is no exchange market for Tournament 170s. As of 08/12/21 Spreadex are not priced up. SportingIndex are priced up as follows:

They are estimating between 5.5 (pessimistic) and 6 (optimistic). Using any number between 5.5, 5.75 and 6 would be a reasonable estimate based on how we feel SportingIndex may be applying bias to this number.
Bookmakers
The bookies have priced up 170 checkouts closer to the 4.5 line.
William Hill

Skybet

Bet365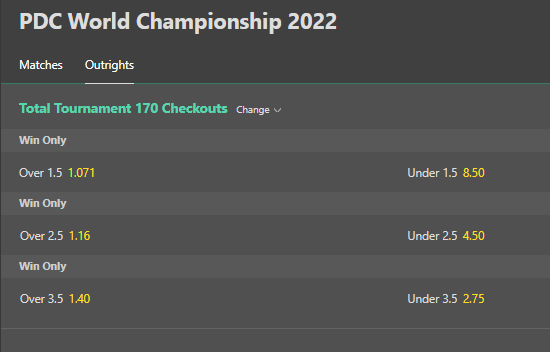 The bookmakers expected 170s lines are all lower than the benchmarking source. This means that either the line at SportingIndex is high (in which case the Sell is a value bet), or all of the bookmakers lines are low (in which case backing the Over at all bookmakers is value).
170s in historical PDC World Championships

There have been an average of 2.49 170s per tournament in the last 27 years. However the graph above shows the average has been slowly rising recently. 12 months ago the 3 year average sat at just under 6 170s per tournament, and the 3 year average had been above 4.5 for 75% of the last four years.
Short term data
Is there any functional reason behind the short term increase in 170s?
Michael van Gerwen famously targets a 170s checkout. He attempts a 170 in 8% of legs, even when he doesn't need it and is comfortably ahead in a set. Anderson attempts a 170 in 5% of legs, and Wright, Aspinall and Price all attempt a 170 in 4% of legs.
It could be argued that players have made an assessment that a 170 checkout is worth more than just winning a leg. It can fuel the crowd and demoralise an opponent. Perhaps this advantage is worth more than the checkout itself, and this realisation has seen a higher number of attempts in recent years. If this is the case, then 5.5 appears to be a more reliable estimate.
Conversely it could be argued that players have always known the power behind a 170, and the increased frequency recorded between 2016 and 2021 is nothing other than a short-term blip, variance in a larger dataset that is unlikely to continue. If this is the case, then the 4.5 appears to be a more reliable estimate.
We can't draw a firm conclusion by benchmarking and we can't draw a firm conclusion by looking at the historical data. Could all bookmakers have independently estimated the line too low? They could if they all used the same odds compiler – which is not a stretch of the imagination. Personally, I will be betting on the overs at the bookmaker. We won't be adding this bet to the trackers or monitoring the ROI because it is nothing other than subjective, personal reasoning. This blog serves simply to announce ahead of time that I am off to the shops to find me some:
Over 3.5 tournament 170s (3/10 +)
Over 4.5 tournament 170s (3/5 +)
Over 5.5 tournament 170s (6/5 +)
Over 6.5 tournament 170s (9/4 +)