Video Assistant Referees have arrived at the 2018 World Cup and made quite an impact!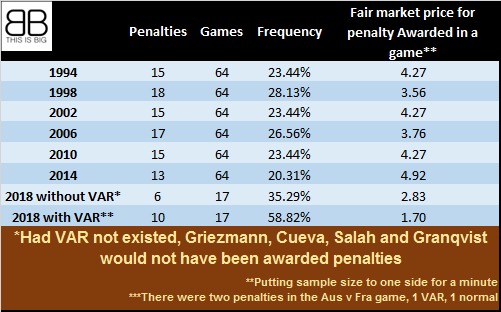 Figures as at 19th June 2018 – more to come for 2018 we hope.
Regression to the mean?
Sample size is obviously very small for this and you might expect a degree of regression to the mean after the initial introduction of VAR. The players should become more aware but then again old habits die hard and some players do love a wrestle in anticipation of a corner of free kick coming in. VAR should make these incidents easier to pick up on (obviously not always as we saw with Harry Kane vs Tunisia!)
Useful Penalty stats
Historically 75-80% of penalties awarded have been scored across various competitions. The figure for the Premier League over the past 25 seasons is slightly higher at 83%. There is a comprehensive summary of the figures available here.
Penalty Stats 1992-93 to 2017-18
Home Penalties % 62.75
Away Penalties % 37.25
Penalties Scored % 83.43
Penalties Missed % 3.97
Penalties Saved % 12.6
Other studies
There is an interesting study here by Luke Petty from Pinnacle that suggests that over the long term an evening out of the 'home bias' is the main consequence of the introduction of VAR and that over the long term there isn't an increase in penalties awarded.