The BB Golf staking calculator can be found here
Notes on the BB Golf Staking algorithm:
This is a tailored staking calculation for the Bookie Bashing Golf tracker. It is an aggressive plan that carries a risk of bankroll bust.
It is possible that the calculator will return extreme stakes under high EV or low odds. Manual assessment is always necessary.
We suggest that EV is capped at 140%.
We suggest that staking recommendations on very low odds players (under 8.0) require particular verification. Staking over 10% of a bankroll to win on a single golfer carries significant levels of variance, regardless of the fact it will be at lower odds. Only the bettor can decide if this is acceptable under their own risk tolerance levels.
Stakes will be returned for -EV players (under 100%), however the long term net result of betting on these players may be a bust bankroll.
We suggest that stakes are rounded. A trader that sees an account betting £4.21 at 50/1 may think the bettor is not recreational. Under the golf recommendations these stakes are rounded up to £5 at 50/1  (equally it could be rounded to £4 or £4.50 but I am always looking for reasons to bet higher)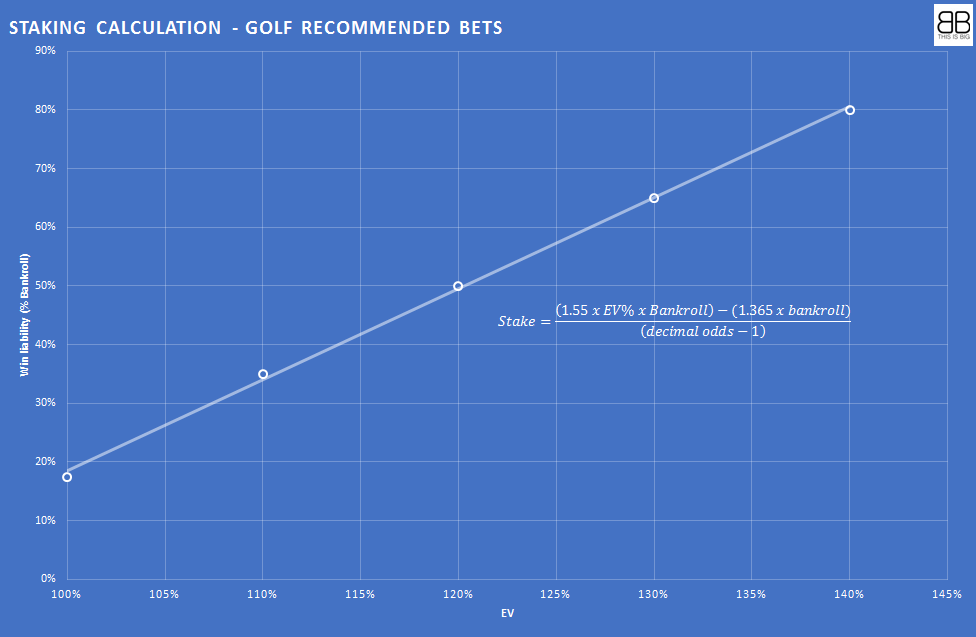 The purpose of the structure of the calculation is to allow for the fact that we actively want to bet on more on players at the top of the field (< 66/1) than players with very little chance of winning (> 250/1). However the shorter odds players tend to be 100-110% EV and the longer odds players tend to be 140%+ EV. This staking plan allows us to be more aggressive at 100.1% – however it is also why we recommend capping EV at 140% in the calculator.