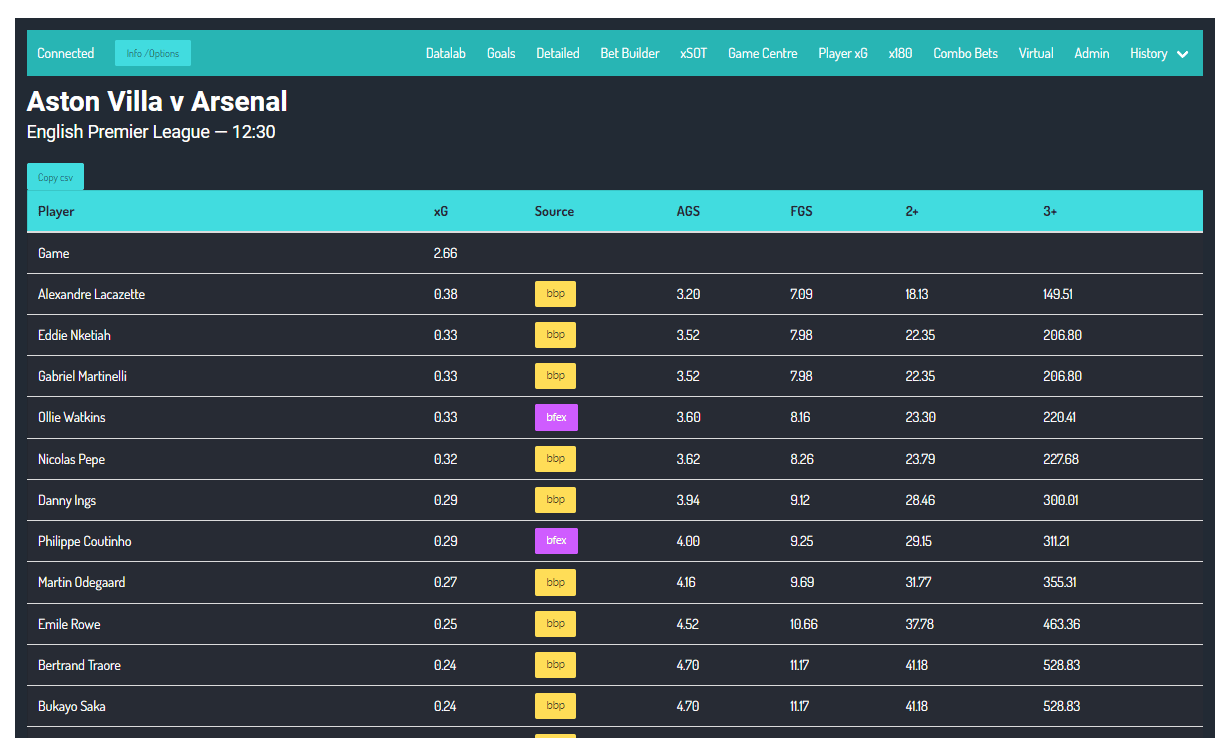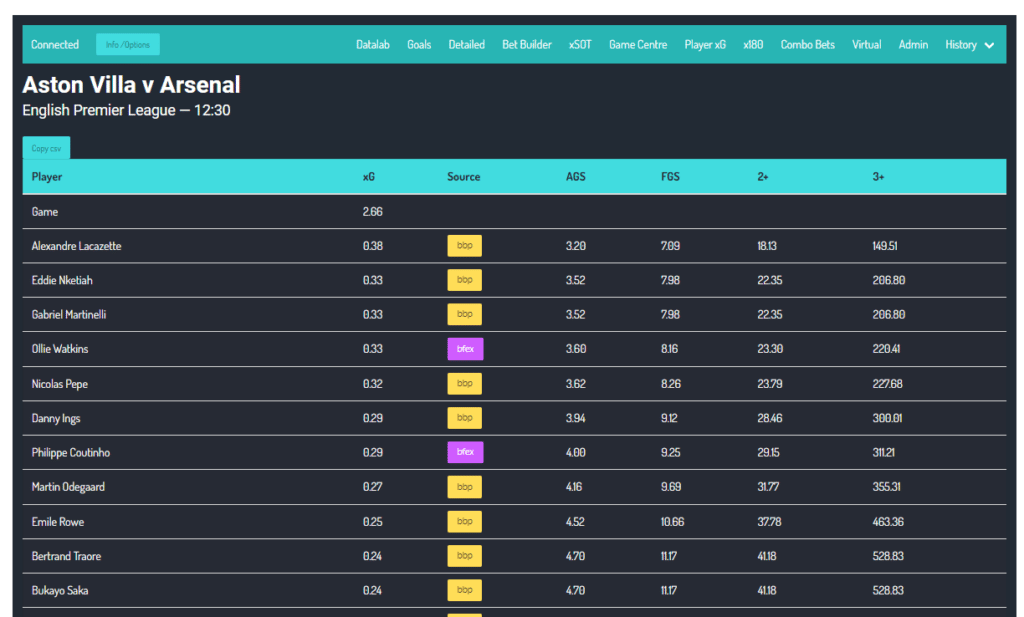 This model is in ALPHA release. PLEASE VALIDATE AND CHECK ANY NUMBERS coming out of the Player xG model. Bet at your own risk, and be understanding if something is said to be 140% when its actually 80%. Automated tools take time to get right.
The player xG tool will
Return the xG of football players in all primary and secondary football leagues
From player xG – return 2+ and 3+ goals for all players.
From player xG and match xG – First Goalscorer Fair Odds (as calculated by bookiebashing. This may be different to the exchange when there is bias or efficiency on the exchange, alloowing for an exploit)
Double Delight and Hattrick Heaven EV (this will be an automated tool and bets will be pushed directly to the tracker from the Player xG tool. We would like feedback on whether this should be 24/7, or just after team news. Please email [email protected] or drop us a message on the feedback channel on Discord)
Player to score first half, second half, both half, any custom time (via the betbuilder)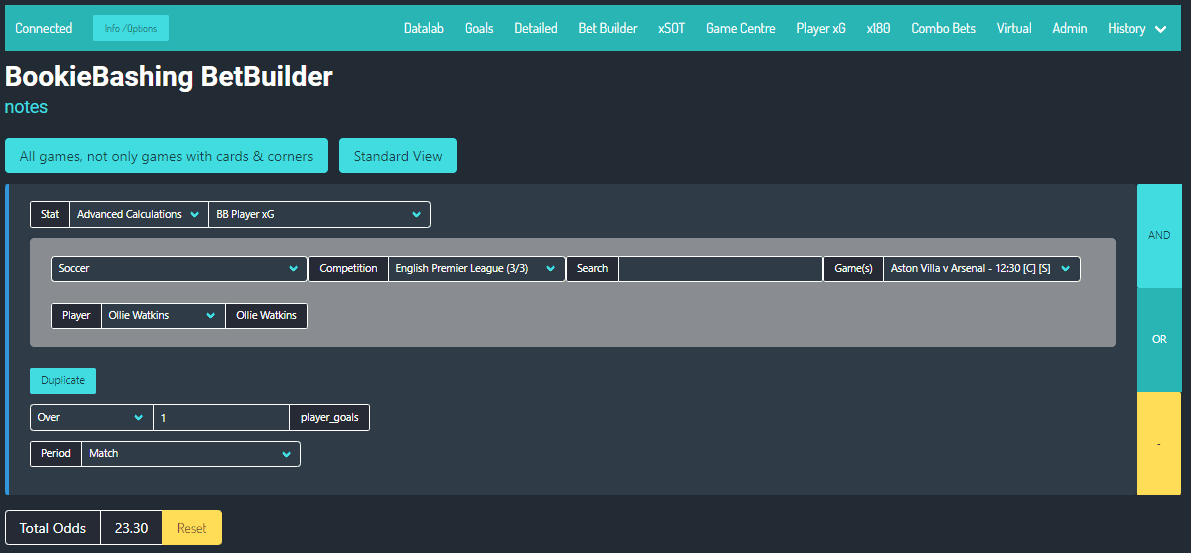 The BookieBashing Player xG Calculation
As with all tools and trackers we benchmark from live markets. We don't price up Player xG ourselves.
The tool takes the "Fair Odds" of Anytime Goalscorer and uses a reverse poisson distribution to determine the Player xG.
The "Fair Odds" will be the traded exchange price (if there has been any trading) or the best bookie price with appropriate margin markup (if there has been no trading)
The "Fair Odds" will switch automatically from Best Bookie Price (BBP) to the exchange odds once exchange liquidity comes available.
2+ and hattrick is calculated by a Poisson distribution using the players mean  expected goals (xG).
A player to score by time period is calculated using the goal time distribution available in the Sports Strategies.
Why?
We want to take advantage of:
2+ and 3+ in primary and less looked at secondary games
FGS, 2+ and 3+ goals in games without exchange markets
Formalise DDHH EV bets
Search for value on the exchange in biased and/or inefficient markets.
Quickly identify steamers for those that like to bet on such a strategy.
Caveats
The Alpha release tool is limited to the Premier League, Championship, League 1, League 2, Serie A, La Liga, Bundesliga and Ligue 1. This will be extended in the near future
Errant lays are set to be captured by using a rule that will dismiss any exchange trade that is more than 50% above or below the best bookmaker price. However if there are two or more trades at this level then the price will switch to the exchange price.
Player data is taken from numerous data sources. Data sources can have different spellings for the same player. It is possible that a player appears twice in the tool with two different numbers as a result of this. We will attempt to catch each of these incidents as they happen but this is a manual process and so some may slip through. The higher xG will be the reliable figure.
The betbuilder does not have any inclusivity co-efficients built in to it. The fair odds of two players scoring in a single game is not simply the product of the odds of both individual players, but the betbuilder may return this calculation.
After team news Price Movement will be identified on the game page of the tool. A player starts at 100%. At 110% the players price has steamed by 10%. At 90% a players price has drifted by 10%. Betting on steamers is a strategy for some who follow the logic that smart money is shaping the market as a result of an unexpected formation or lineup, and a player that starts to steam in may be a value bet that beats the closing line.
Risk of Player Not Starting
Pre team news every player has a risk of not starting. This risk carries a tangible threat to the value of any bet you place before team news. Many people (including this author) accept this risk and for the most part ignore it, however it is important you understand the risk involved with "Player scoring" bets.
Team news occurs 1 hour before kick off.
Before team news a player may be 99.9% certain to be in a lineup, 0% certain to be in a lineup or anywhere in between.
If a player starts on the bench and comes on at any point his Anytime Goalscorer bet will be live. If a goal has been scored, his First Goalscorer bet will be Void.
If a player plays no part of the match, the bet will be void.
The bookmaker price contains no consideration of the risk of a player not starting.
If a players xG at the bookmaker is 0.2 but he is only expected to come on as a late substitute then the exchange player xG could be 0.05.
The exchange price will contain consideration of the risk of a player not starting.
At the moment the player xG tool does not consider this risk. The risk can be mitigated (1) by only betting after team news, (2) only betting on players with an very high certainty of being in the starting lineup.