Golf

Tracker

Instructions
How it works
The Golf tracker extracts data from the Bookmakers and benchmarks this first against the exchange and then, if there isn't enough liquidity, against Oddschecker top prices. See the video below for more details on how the value is calculated. We have been selecting a sample of bets each week to illustrate the value that is being found by the tracker, these are generally posted up on the Wednesday before each tournament. Results to date can be found here.
For more detail on how the EV is calculated see here.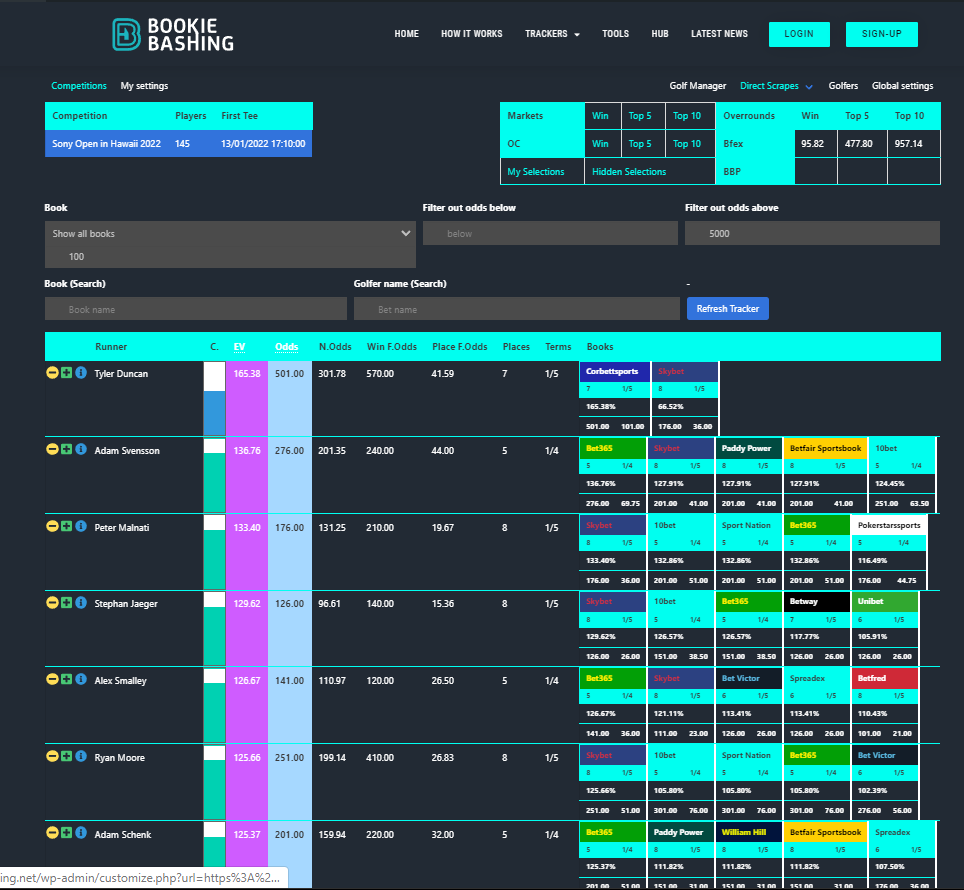 Menus
At the top of the page there are the following menu buttons;
Competitions – This is a link to the currently available events on which you can bet.
Filters – From here you can include or exclude different bookmakers from your results.
My Settings – This allows you to offer a standard commission rate, stake and return and is obsolete for now.  There is also the option to change the way your results are compiled, we would strongly recommend leaving this on the default option but if you wanted to see only results that are derived from lay prices and the exchange you can change this to 'Strict'.  Or alternatively 'Ex only' to include last traded prices.
My Selections – This will populate with your golfers once you have selected the + button on the left side of your golfer and is useful for keeping track of your bets during the tournament. These will usually be cleared out on Monday ready for the next tournament.
Instructions – This is a link to this page in case you want to refresh yourself about something or find out what a new feature does.
Features and Settings
Above the tracker you will find three drop down menus;
Info and links provides details on where the data is coming from. You can look here for direct links to the relevant Betfair exchange market and Oddschecker pages.
Filters and Settings allows you to include or exclude different bookmakers from your results. It also has an option to look at different ratings models, most of the time we would recommend leaving this on the default model but feel free to tinker around with the other options.
EPs (Extra Places was designed for when people wanted to lay the win and each way markets in order to target a finish in one of the extra place markets offered by a bookmaker.
OWS (Overlay Win Shot) is for when you might wish to lay the place market to cover your stakes giving yourself a free (or cheap) shot at the win.
PS (Place Shot) is the other way round, laying the win market for a shot at the places.
Place arbs is for targeting arbs on the places.
Early payout is for when bookmakers offer an incentive such as your golfer being paid out as a winner if they lead after the first round.
Quick Filter provides options to search for a specific golfer and to restrict the odds range that is returned in your results.
Using the results table
The table of results displays the following information from left to right;
+ – This is for adding a golfer to the 'My Selections' page as described above.
i – Select this for further information on this particular golfer and how the results were derived.
Title – Golfer's name
Confidence – A green full confidence bar means the data is from a liquid exchange.  As liquidity decreases the data confidence is reduced, this is displayed as a smaller bar with the colour changing from green to blue. When there isn't enough liquidity at the exchange the bar will be almost empty and yellow.  This indicates that Best Bookmaker Price is being used after adjusting for overround.
Win (book) – Odds available at the bookmaker.
Win (lay) – Fair odds of this golfer to win the tournament.
Top 5 through to Top 10 – Fair odds of this golfer to finish within these positions.
EV £ – Expected return based on a £100 stake (£50 each way) over the long term.  Above 100% is expected to give long term winning results.
Book ratings – These are the top results that can be bet on at the bookmakers, the display shows…

Bookmaker name
Number of places they are paying
The place terms
Expected Value as a percentage
Bookmaker win odds
Bookmaker place odds
Historical profit/loss
See this link for weekly recommended bets based on the tracker, and the historical p/l of those bets starting with a £1k bankroll.
Live prices
The tracker extracts data from Betfair as well as from bookies and Oddschecker. These update every 5 minutes.
Staking recommendations
We recommend the staking calculator on this page for working out stakes on golf bets.
Feedback and Requests
Feedback and requests can be provided to Basher Lee on Discord.